Rhineview 549, Oberwesel (Middle Rhine)
kontakt@ferienwohnungoberwesel.de
About
Newly refurbished holiday apartment for rent in the heart of the Middle Rhine
Oberwesel ist die berühmte Türme- und Weinstadt!
Oberwesel ist eine mittelalterliche Stadt am Rheinufer bei Kilometer 550 mitten im Herzen des UNESCO-Welterbes Oberes Mittelrheintal. Die Stadt hat das große Schloss Schönburg, das auf dem Hügel thront und die beiden Kirchen, die Liebfrauenkirche und die Martinskirche, und die starken Stadtmauern überblickt, die immer noch das hübsche Dorf umgeben. Hier finden Sie das sommerliche Weinfest Rhein in Flammen, der Weihnachtsmarkt und das Spectaculum sowie viele weitere touristische Attraktionen, die unsere Besucher auf Trab halten.
Rheinblick 549 ist eine funkelnagelneu renovierte Wohnung am Rande der Stadt und neu auf dem Markt. Wachen Sie mit einem atemberaubenden Panoramablick auf den Rhein von Ihrem Schlafzimmer und Wohnzimmer/Küche auf. Die Wohnung ist unabhängig, hat einen eigenen freien Parkplatz, ein Schlafzimmer mit Doppelbett (auf Wunsch auch 2 Einzelbetten), ein geräumiges Badezimmer und einen modernen Wohn-/Küchenbereich. Ideal für 2 Personen, bietet aber Platz für bis zu 3 Personen (Schlafsofa im Wohnzimmer).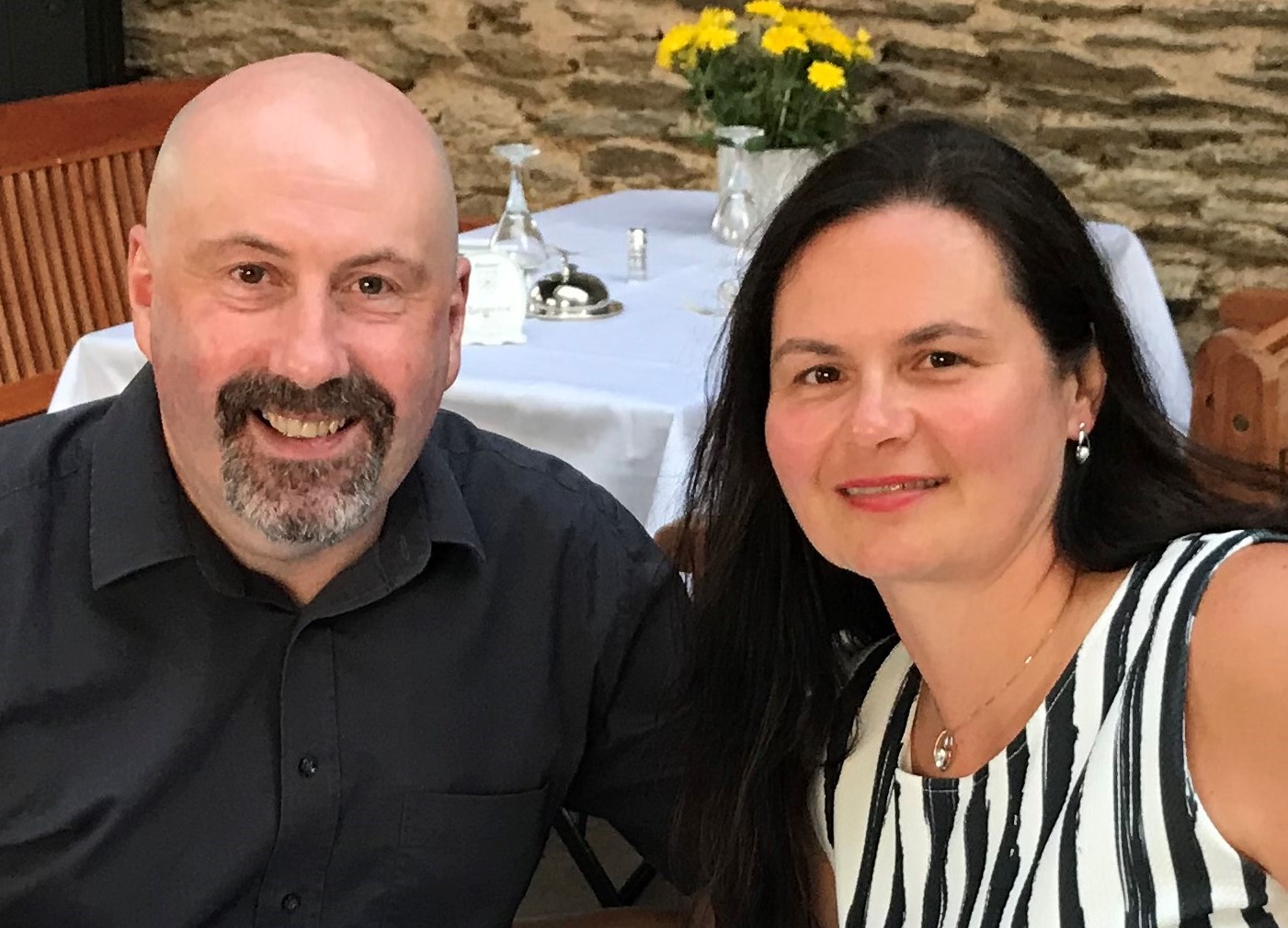 We moved to Oberwesel in Summer 2021 and love the place – from our house, which accommodates the self contained apartment, to the town and its wonderful people.
We are on site to help with questions and to make recommendations to our many local restaurants and winemakers.
We will welcome you in both German and English. Enjoy your stay!
Kathrin & Pete, Your Hosts
Information
Apartment and Amenities
Views of the Rhine
Directly faces the Rhine. Overlooks the harbour and the Rhinelander Stadium. Wake up to the sunrise over Father Rhine. 
Free Wifi
Free wifi.
Plus TV, Amazon Fire Stick and HMDI cable. 
Free Private Parking
Free private car parking directy in front of the apartment.
Fully Refurbished
Newly refurbished – completed in Summer 2022 – with new kitchen and bathroom, as well as new flooring, ceilings and decor.
Private Terrace
Private terrace at the side of the house. Enjoy your evening wine as the sun shines over the Schoenburg on to the Rhine.
Near All Amenities
A short walk to the train station and into town for Tourist Information plus restaurants, winemakers and other sights.
Kitchen and Dining
Fully refubished kitchen with oven, hob, microwave, fridge/freezer and the like. Dine inside with a panorama view of the Rhine.
Supermarkets
Easy walking or driving access to Aldi, REWE and Lidl.
Coffee Machine +
All appliances provided – coffee machine, washing machine, towels and bedding … and kettle and tea bags for English tea in the morning!
Check In & Check Out
Check in after 15:00 and please check out by 10:00. Any changes to this can likely be accommodated – just ask.
Cancellation Policy
Changes can be made with 7 days' notice. 
House Rules
Please keep noise to a minimum after 21:30. Sorry – no pets allowed and no smoking. Please treat the apartment as if it was yours – please enjoy it and the town of Oberwesel – then leave the apartment in the state you found it. 
Information
Nearby Attractions
Oberwesel is at the heart of the UNESCO World Heritage Site of the Upper Middle Rhine Valley and there is plenty to do and see.
Sight Seeing
As well as the fabulous tourist attractions of Oberwesel, Loreley Rock and St. Goar are less than 10 km away. The historic towns of Boppard, Bacharach and Bingen are also close by. A little further away, but still easy to get to, are the larger towns of Koblenz and Mainz.
Hiking
The area is renown for its plethora of hiking trails ranging from those close to the river to those in the forests and hills of the Hunsrueck area. Many sign-posted walks for all levels.
River Cruises
There are plenty of options for a day on the Rhine. Koeln-Duesseldorfer has its own stop in Oberwesel. Other tours run from St. Goar, Boppard and Bingen – all easily accessed by train from Oberwesel.
Cycling
As well as the Rheinradweg on both sides of the river – running all the way from Lake Constance to the Hook of Holland – there are plenty of local tours. Easy access also to the Mosel, Nahe, Lahn and Main cycling routes.
Day Trips
Further afield, in addition to the Middle Rhine attractions between Mainz and Koblenz, the major towns of Frankfurt, Bonn and Cologne (and their respective airports) are just over an hour away by train or car, opening up city breaks from the quietness and beauty of the Middle Rhine.
Besuchen Sie Oberwesel
Verfügbarkeit

Überprüfen Sie die Verfügbarkeit online, rufen Sie uns an oder senden Sie uns eine E-Mail wie unten angegeben. Wir würden uns freuen, von Ihnen zu hören und Sie in Oberwesel willkommen zu heißen.
kontakt@ferienwohnungoberwesel.de